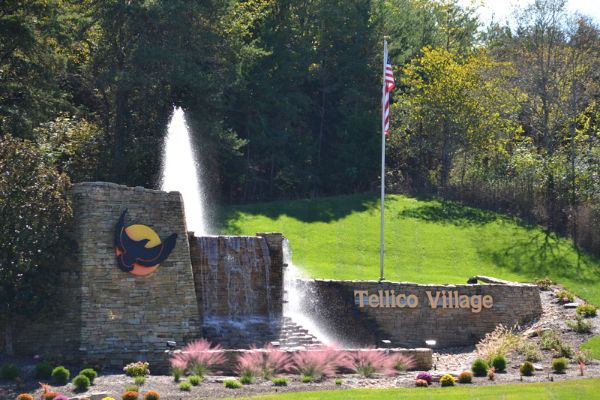 Tellico Village is an exclusive 5,000-acre retirement community located along Tellico Lake, beneath the shadow of the Great Smoky Mountains. Originally established in 1986, the lakefront community is considered one of the top retirement communities in the region.
Located just 31 miles from Knoxville, Tellico Village offers residents easy access to world-class shopping and entertainment venues, nationally recognized healthcare providers, and a great selection of cultural and educational resources. The Village is also a few minutes away from both the I-75 and I-40, making major cities in the southeast such as Atlanta and Nashville just a short trip away.
In addition to its convenient location, Tellico Village also boasts a wide range of world-class amenities that provide residents with an enjoyable and fulfilling active lifestyle. It is home to three private championship golf courses, as well as top-notch facilities for recreational activities such as swimming, fishing, and boating.
Tellico Village provides residents with a truly unbeatable quality of life, with its superb amenities, picturesque surroundings, convenient location, and relaxing atmosphere. If you're searching for one of the finest retirement communities in the country, Tellico Village is definitely an excellent choice.
Activities to enjoy in Tellico Village
Twilight, overlooking tellico lake
Tellico village is life living on the lake
Tellico Village is a paradise for golfers of any skill level, as it features three top-ranked championship golf courses. Golfers can choose between the Toqua Championship Golf Course, Tanasi Championship Golf Course, and The Links at Kahite Championship Golf Course.
Love shopping? Tellico Village is a few minutes away from a fantastic selection of high-end boutiques, local specialty shops, and major department stores. Turkey Creek, Knoxville's premier shopping destination is also just around 20 minutes away.
Residents get access to three state-of-the-art recreation centers, which feature fitness rooms, tennis courts, indoor and outdoor pools, and more.
Lakeview and Lakefront Homes in Tellico Village and Kahite
Known as one of the top retirement communities in Tennessee, the 5,000-acre Tellico Village is blessed with extremely beautiful views of Tellico Lake and the Great Smoky Mountains.
Most of the lakefront properties in Tellico Village range from cozy 3-bedroom, 2.5-bathroom homes to more spacious 5-bedroom, 5-bathroom homes with nearly 6,000 square feet of living space.
Kahite, a neighborhood within Tellico Village, is surrounded on three sides by the lake, making it a prime location for lakefront home buyers. In addition to the picture-perfect lake views, Tellico Village and Kahite is also excellent for boating enthusiasts as the community also features private boat dock access and boat launching facilities.
Golf Course and Luxury Homes in Tellico Village and Kahite
Situated just 30 minutes away from Knoxville and surrounded by panoramic views of Tellico Lake and the Smoky Mountains, Tellico Village is one of the finest planned communities in the region.
The community boasts three top-ranked premium golf courses: The Links at Kahite, the Toqua Golf Course, and the Tanasi Golf Course, all of which provide an unrivaled playing experience for players. Buyers can choose from a wide selection of homes with first-class features and gorgeous views of the golf course.
Townhomes, Condos, and Villas in Tellico Village
Tellico Village offers a relaxing atmosphere, first-class amenities, and a great selection of townhomes and condominiums that can fit any type of preference and price range. Condos and townhomes in Tellico Village boast plenty of top-notch features such as spacious floor plans, private lake access, and views of the lake from nearly every window.
Residents of Tellico Village get access to many world-class amenities, which include three top-ranked championship golf courses that are sure to provide an unforgettable playing experience. The active retirement community is excellent for boaters and outdoor lovers as well, as it features walking and hiking trails, a yacht club, and private dock access.
Sorry we are experiencing system issues. Please try again.